Lord Swaminarayan viz. Sahajanand Swami is the source of spontaneous divine happiness. Lord Swaminarayan manifested on this earth and relieved numerous souls from the trouble of worldly life and by making them free from doubt, depression and the darkness of ignorance, He made their lives auspicious by spreading light of spiritual bliss in their life-span.
-Kanji Bhagat

Whose speech is auspicious,
Whose laughter too is auspicious,
Whose pair of eyes is auspicious,
and arm too are auspicious.
Auspicious is Whose face,
and so auspicious is His walk,
O Lord having such Figure full of auspiciousness,
may You fill this world with auspiciousness!
This hymn contains a prayer which rises into the morning sky along with the scented smell rising from the scanted stick. May Lord Swaminarayan Whose speech, laughter, eyes, arms, face, walk and entire figure are auspicious, bless this world by showering His all pervasive auspiciousness.
More >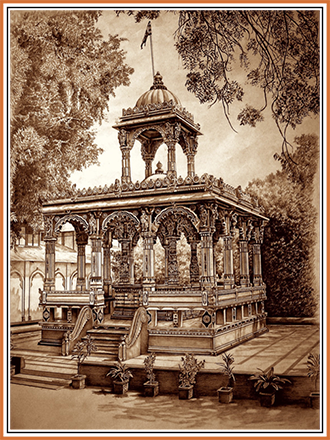 PITHIKA - JNAN BAUG, VADTAL
From where Lord Swaminarayan showered
nectarian words and enlightened
innumerable souls.